For Instance Infowars Alex Jones?
Why not? Here it is, right here, outed as the well-known Triple 666 hand signal
Republican presidential candidate Donald Trump flashing the Triple Six hand sign. A favorite of Illuminati insider, the Triple Six is made with three fingers folded to represent the number 666.
http://illuminatisymbols.info/666/
10th Planet Investigations ... and here, with Alex Jones cited as surely knowing of the not-so-hidden in-plain-signt Triple 666 hand sign
Alex Jones making the Triple Six sign on his show. Jones is the Godson of Illuminati researcher and author of Codex Magica: Secret Signs, Mysterious Symbols, and Hidden Codes of the Illuminati, Texe Marrs. Alex is most likely aware of Illuminati symbolism and signs
http://illuminatisymbols.info/666/
10th Planet Investigations... and not to be neglected, embedded right alt supportive of Trump infowars.com contained in video on its page containing an article infowars presents allowing President-Elect Donald Trump "due time" to appoint a special prosecutor who will make sure Hillary Clinton is investigated and convicted for crimes which would send her to jail.
And most especially, here... in an original tweet from rt (real trump)...
https://twitter.com/RT_America/status/796326232505876480/photo/1?ref_src=twsrc%5Etfw
The same image with the rt tweet is embedded on the infowars.com page with the following article:
TRUMP CAMPAIGN MANAGER DOES NOT RULE OUT SPECIAL PROSECUTOR FOR HILLARY CLINTON – MSNBC
"All in due time."
Donald Trump's campaign manager, speaking on MSNBC, said appointing a special prosecutor for Hillary Clinton can't be ruled out, adding that discussion regarding the issue will happen "in due time."
Trump and Vice President-elect Mike Pence are "looking to unify the country, but we haven't discussed that in recent days, and I think that it's all in due time," campaign manager Kellyanne Conway told MSNBC in an interview, as quoted by Reuters.
Trump did not bring up the issue when speaking on the phone with Clinton overnight, the campaign manager added in a separate interview for ABC..."
During his campaign, Trump said that if he wins, Clinton might end up with a special prosecutor looking into "her situation."
"If I win, I am going to instruct my attorney general to get a special prosecutor to look into your situation. Because there have never been so many lies, so much deception," he said at the October 10 debate.
Trump then also added that Clinton owed an apology for the "33,000 emails you deleted" and that she "would be in jail" if he becomes president.
http://www.infowars.com/trump-campaign-manager-does-not-rule-out-special-prosecutor-for-hillary-clinton-msnbc/
10th Planet Investigations continued 11/10/2016
Did you catch the signage live?
Are you aware of well known Illuminati Signs as is infowars.com
Not too far to look. This site indicates President Obama making an occultist sign with his hand as well as presidential candidate Donald Trump.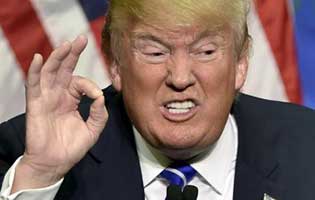 DONALD TRUMP
Billionaire real estate developer, TV celebrity, and current Republican candidate for President of the United States. http://illuminatisymbols.info/